Mother's Tree......L&L 38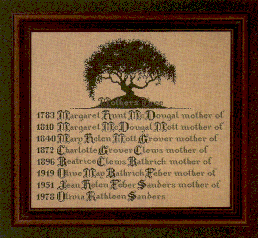 A closer look...jpeg image
Months ago many of you gave me wonderful suggestions for this heirloom. I chose to stitch it in 3 shades of green but you may do it in anything you want...blue would be pretty. I tried to make the design modern and old too so that it can hang on a wall 100 years from now and still be considered attractive. In my opinion the best way to provide for future generations is to purchase a larger piece of fabric and tuck it behind when framed. Since the updates will happen generations apart..the cost of reframing won't be an issue.
This design features a large tree with spreading branches. Alphabets and numerals are included so that each stitcher can personally record the generations of mothers past and future. Stitchers are encouraged to leave extra fabric on the bottom of their piece and buy additional floss so that new generations can be added to this heirloom.
Fabric
Stitched on
32 count Sand Belfast Linen (2 over 2) from Zweigart
Frame
Frame no. 573 CW from Larson-Juhl
DMC floss
934
3051
3052
Copyright © 1995 Marilyn Leavitt-Imblum. All rights reserved.