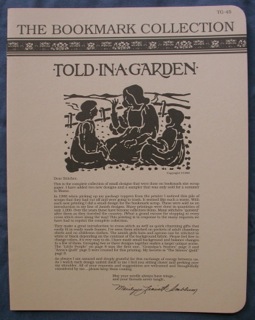 Copyright © 1996 Marilyn Leavitt-Imblum
For many years, we released small bookmark designs. In response to the demand for these bookmarks that are generally no longer available, in 1996 we released a booklet containing not only reprints of these older small bookmark designs but other new designs as well.
These small designs are wonderful for teaching new stitchers or as quick projects. The booklet is a different shape than our usual charts, 8 1/2 by 11 inches, with multiple sturdy pages.
The closing above Marilyn's signature reads,
May your needle always have wings …
and your threads never tangle
See also